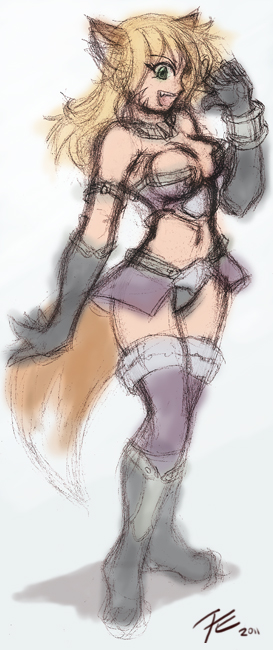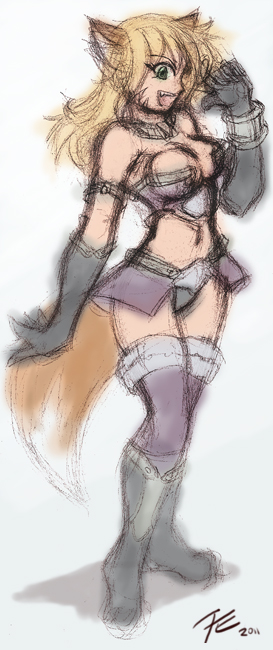 Meet Laura, one of the very first characters I ever created for this Shadowdawn and Euterra setting… far too long ago to admit 🙂
I'll be upfront and say now she's the most "optional" character of the eight playable as she isn't part of the main story unless the player convinces her to join Arashi's team.  But she'll be worth it, as she's one of the most powerful mages in the world, so she'll add plenty to a party in need of firepower.
I apologize for only showing a rough concept, but since I'm still working on the final official digital artwork series for the website, I figured this would get the idea across for now.
In any case, she is probably my most developed character, even though she wouldn't initially seem so given her cheesecake design – it's kind of an homage to Jeane from Suikoden as they appear to have similar concepts on the surface.  Actually, up until the Shadowdawn project, the curse that gives her the ears and tail actually kept her trapped in the body of a real fox, as opposed to an anthropomorphic blend, so her current incarnation is a bit new.  Her role in the story is unique as she is most affected by the underlying themes beyond the personal conflict Arashi and the rest of the party faces.
For the few that don't follow my Twitter and Facebook feeds, I also uploaded the first video showing the bare bones gameplay of the game.  It also includes a more finished remix of the music track "Crimson Azure" which I uploaded in December.  Since everyone always asks to see a video, I figure now is as good of a time as any just to show how the game engine essentially runs.  There's still a LOT of stuff the video doesn't show, but since the animations aren't complete I decided not to focus on it.  I only use like 2 of the submenus XD  This blog entry from XboxIndies outed me before my own blog did, which was actually pretty cool, and I love the brief write-up about it.  The neogaf forums also got the same video, and it seems like it's been fairly well received, so we'll see.  In any case, if you HAVEN'T seen the video yet, here it is:
Link: http://www.youtube.com/watch?v=vCxlsbRHC0I