Hi everyone, a quick update because I am nearing completion on the new cover art (and home page portal) for Shadowdawn Gaiden, which I am currently calling Shadowdawn Genesis.  Here is a preview of it: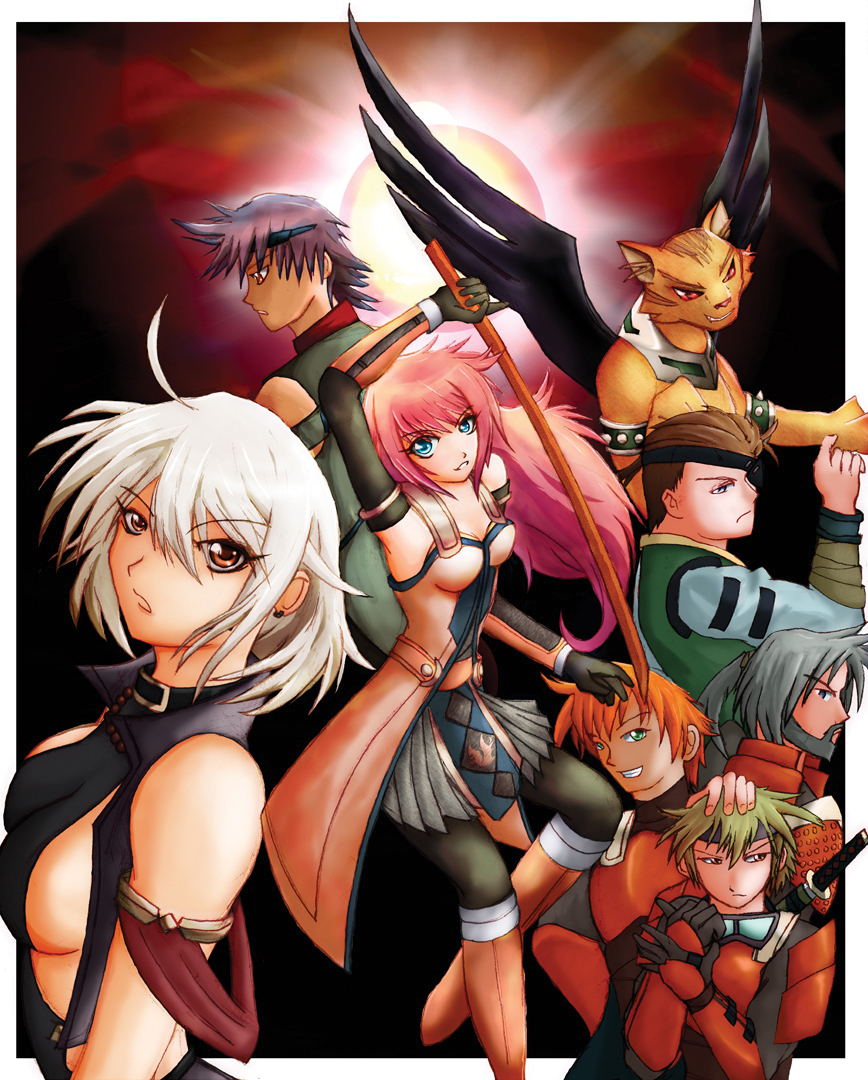 The characters are:
Arashi (center): Of course everyone knows she's the main character.  I still haven't finalized her outfit colors, so please bear with me…
Morsett (top left): An outworlder from the planet Fractalis who has since made a name for himself as a high-ranking officer in the notorious bandit guild, the Blackpaws.
Ket (top right): Arashi's eternally loyal friend, the outcast Kalille is usually at her side, if not within earshot of trouble.  He has a cynical outlook but that does not stop him from fighting for what he values.
Nephele (bottom left): The enigmatic leader of the Blackpaws, who seems to know a good deal about the Kinshutai and the Imperial Family they protect.
Axel (center right): A sharpshooter from the Blackpaws, he is well known throughout the ranks of the Kinshutai.
Hizuma, Koren, and Yoshitaka (bottom right): Hizuma the orange-haired recruit of the Kinshutai,  sympathizes with Arashi, who has yet to be accepted into the elite ranks of their group.  Koren, the Kinshutai general, has been a friend of the Imperial family for Foxfire for generations, and served in Emperor Mitsuo's own personal guard before moving to his son's.  And Yoshitaka, an agile, long-ranged fighter who tends to get picked on but only due to his stoic, unmovable nature.
I am currently in talks with a pixel artist to help me with animating Arashi for the game, he is very skilled but it is going to cost a fair bit. However, with the quality and the time saved on my end, I think it'll be worth it to see this game finished that much faster.